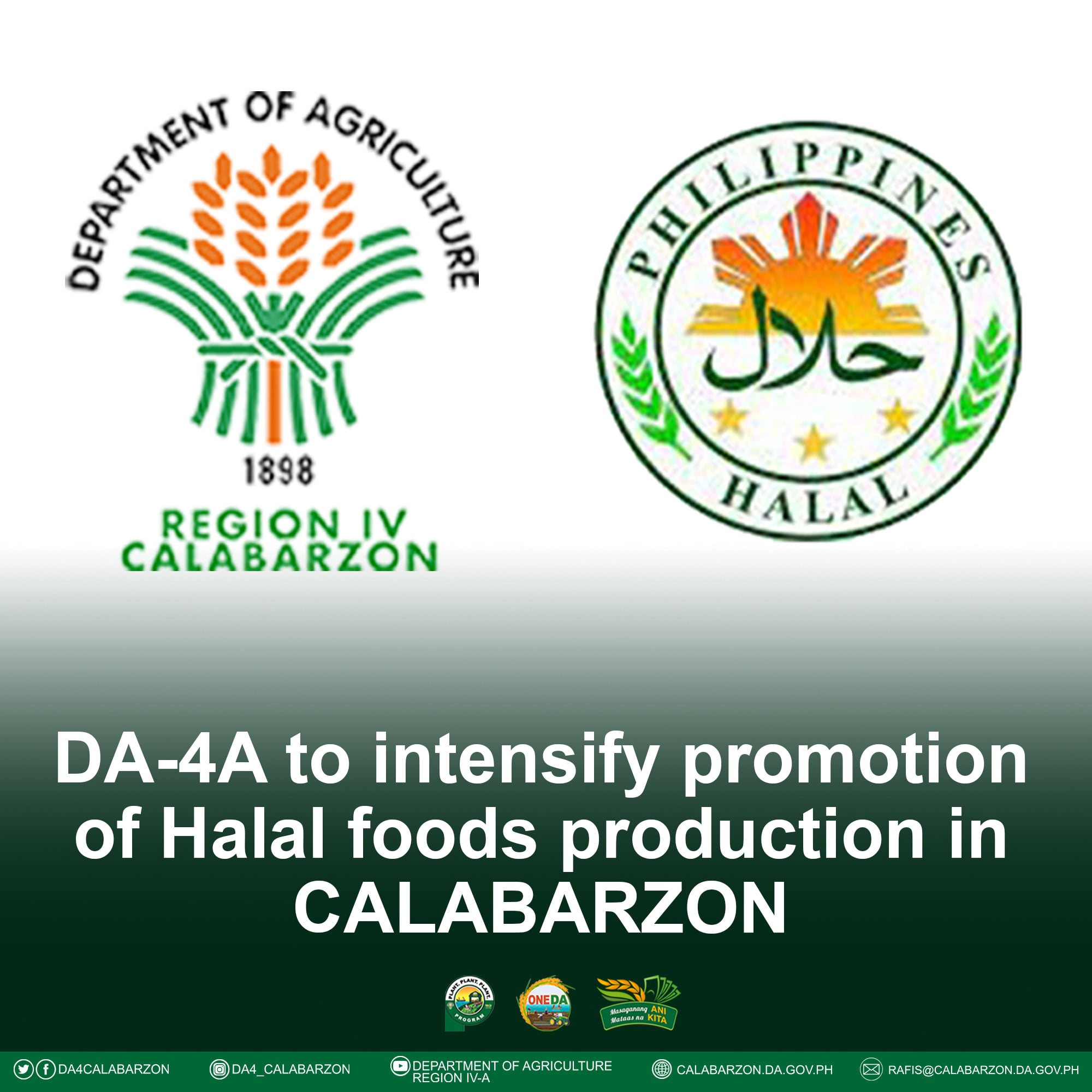 The Department of Agriculture IV-CALABARZON (DA-4A) will intensify the promotion of Halal food production in the region through conducting trainings, improve relationship with the key players in the industry, and social media campaign.
This was discussed during the DA-4A's Halal Regional Technical Working Group (TWG) meeting on June 2.
According to Antonio I. Zara, DA-4A Halal Banner Program Focal Person, the DA aims to have an annual 5% increase in halal crop production and in Halal agri-fishery production, 3% increase in Halal annual production, and 20% increase in Halal milk production from 2019 to 2022, and to increase in Halal exports by 10% in 2023 to 2027.
Zara added that to achieve the mentioned goals, the Program will consolidate the budget to create more substantive projects and activities, create more areas for investment, and implement second-party DA Halal compliance. It will also strengthen the cross-cutting mechanism with the other banner programs as well as the information campaign.
"We need to have an information campaign not only to inform them [producers] but to help them increase their product para ma-establish din ng Muslim Filipino ang kanilang standard," Atty. Jamil Adrian Khalil L. Matalam, National Halal Program Head, said.
In compliance with Republic Act No. 10817 or the "Philippine Halal Export Development and Promotion Act of 2016," DA launched the Halal Food Industry Development Program as a banner program to promote and to help increase the production of Halal foods.
Zara also said that there is a great demand for Halal foods since Halal industry can still be considered young in our country and this poses a huge opportunity for Halal food producers and farmers who are planning to invest in Halal foods. #### (Reina Beatriz P. Peralta, DA-4A RAFIS)