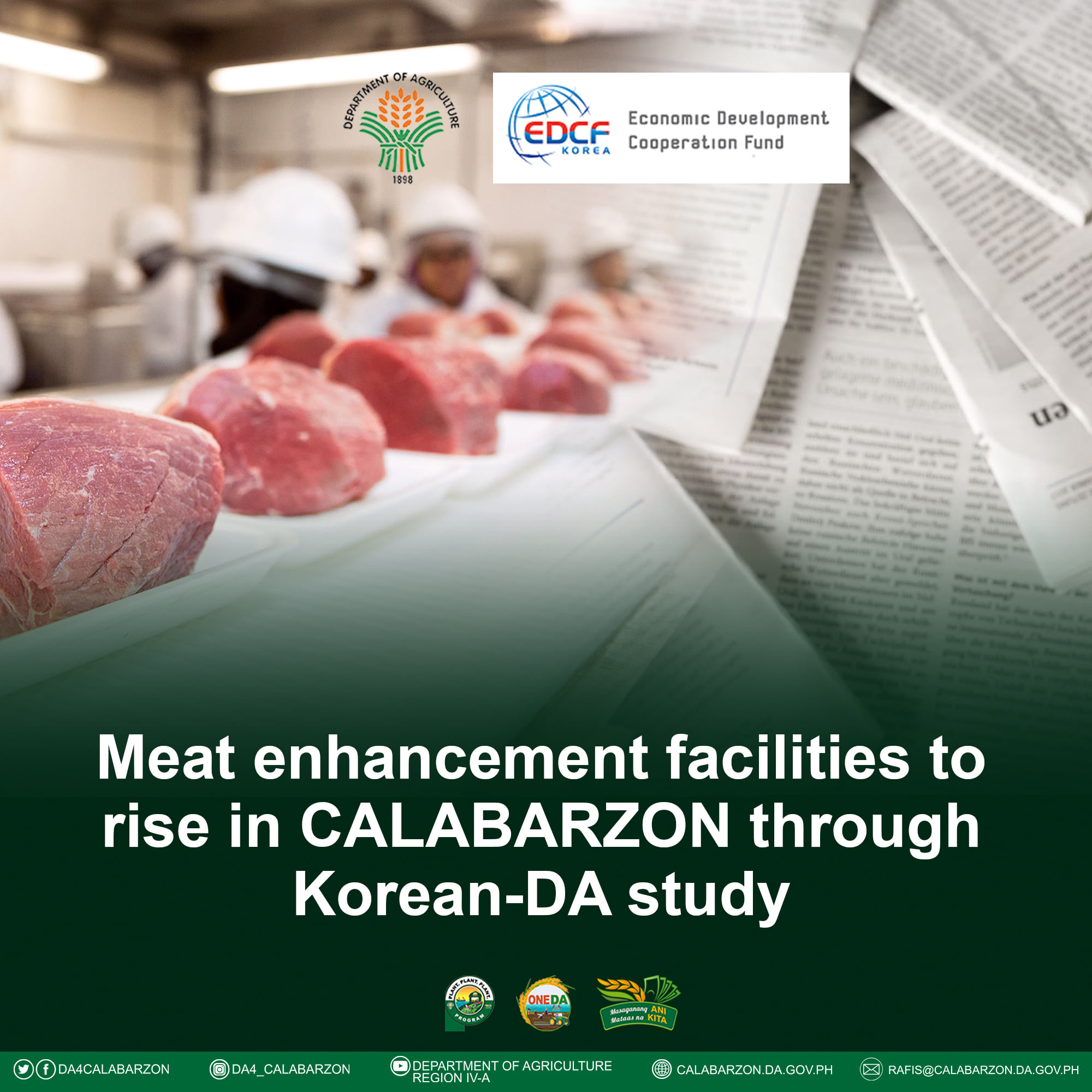 CALABARZON is one of the regions where meat enhancement facilities will be constructed through the "Feasibility Study (FS) on Enhancing Meat Safety and Quality through Establishment of Modern Livestock Infrastructure and Inspection Facilities with Traceability System in the Republic of the Philippines" of the Export-Import Bank of Korea and its Economic Development Cooperation Fund (KEXIM-EDCF), in coordination with the Department of Agriculture (DA).
According to Jonathan V. Sabiniano, Sr. Technical and Planning Officer of the Office of the Undersecretary for Livestock, during the regional briefing regarding the feasibility study on June 11, a 6.5-hectare meat establishment complex that consists of the slaughterhouse, storage facility, meat cutting and packaging facilities, carcass auction market wholesaling space, and chilling and freezing warehouses; Meat Academy, a Philippine training center for meat slaughtering and processing, in (Agricultural Training Institute-International Training Center on Pig Husbandry (ATI-ITCPH); 50-ton capacity feed mill; and the upgrade of the Regional Animal Disease Diagnostic Laboratory (RADDL) and DA-National Meat Inspection System (DA-NMIS) laboratory will be constructed in CALABARZON, probably in Batangas, Region III, NCR, Region VII, and Region XI.
"Ang focus ng feasibility study ay swine industry based sa pre-feasibility study, iyon ang middle o hindi pa masyadong matured [or well-established animal industry in the Philippines]. Unlike sa poultry na matured na or 'yong sa beef naman na mababa pa ang maturity," Sabiniano explained.
KEXIM-EDCF will also be giving seaport container scanners with interpretation room for the international container terminals in Batangas.
Aside from the construction of the facilities, KEXIM-EDCF will conduct local and international training on traceability system; genetic improvement of swine; entrepreneurial skills; and operating the Meat Academy, meat complex, feed milling, container scanner, and laboratory equipment.
As part also of the said feasibility study, Korean consultants of KEXIM-EDCF, together with the Department of Agriculture IV-CALABARZON (DA-4A) Regulatory Division, DA Bureau of Animal Industry-Veterinary Quarantine Services Division IVA (DA IVA BAI-VQS 4A), and DA-National Meat Inspection System (DA-NMIS) inspected the current and the site of the on-going construction of the new Regional Animal Disease Diagnostic Laboratory (RADDL) facility and the port of Batangas on the day of the regional briefing. The result of the inspection will be considered during the construction of the facilities.
"Your facilities are very excellent and also facilitating very well. We're very pleased to see the buildings and operations here. CALABARZON is very careful in hog production so I think it should have the husbandry, slaughtering, and processing inspection. I think you need to established a very modernized and global standard meat processing facilities. We will discuss the result and decide which is the best site for the facilities," Steve Park, Korean consultant, said.
"Nagpapasalamat kami sa DA-4A sa accommodation and support. Katulad ng nabanggit ni Regional Technical Director Dennis [Arpia], full support sila [DA-4A] rito. 'Yong [Korean] consultants, sabi nila, they will be working for the development of the livestock industry dito sa Pilipinas. Lahat ng mga kailangan natin, 'yon ang ilalagay nila sa report nila," Sabiniano added.
The target date of construction of the said facilities will be in year 2023 and probably end in 2028. #### (Reina Beatriz P. Peralta, DA-4A RAFIS)